If your i94 date is same as your OLD passport expiry date and now you need to change/extend the i94 date based on your new renewed passport, you can visit Laredo, TX (Texas) CBP office at US Mexico border.
Documents required for i94 extension or correction at US Mexico Border
Original Approved i797.
Example: If you are on H4 or H1B visa, your OWN approved i797 original document.

Your Old (expired) and New passport.
Example: the passport with your US visa stamp should also be carried in original.

Your US address proof
Could be any utility bill, your driving license, state ID, EAD card, Lease agreement.
i94 correction at Laredo Border, Texas - Border crossing required or Not?
As per my own experience, the i94 correction is dependent HIGHLY on the officer you see on the window.
You may be asked to cross the border (by walk or drive - your choice) to get the i94 corrected. So, be prepared.
Some of the people have got the correction done without crossing border too. So, its a 50-50 chance.
In my case, the officer ASKED to cross the border on 1 June 2018 using Bridge 1 (Pedestrian Bridge over River Rio). Step by step process and detail mentioned below.
Bridge 2 is for cars coming into US from Mexico. You can use it too but I would not recommend.
My recommended approach:
Go to CBP office first and check if they can fix your i94 to match your i797 date with new passport.
If they do, you are lucky and you are done.

If you are asked to cross border and re-enter US, then use Bridge 1 to walk. Details given below with pictures.
Laredo TX CBP i94 update opening hours
The i94 correction / extensions are done 24x7.
Car Parking
1. Laredo, TX Border Car Parking closest to CBP office - Valero gas station
Walk inside the store and go to the cashier and get a parking tag. Put the tag on your windshield.
Parking cost at this time: $5 per hour. Just buy for 1 hour. If you take more time, you can pay later for extra time. They do not tow your car
Don't worry.
619 Farragut Street, Laredo, TX
This gas station is right across the street from CBP office. Just park, cross the street and you see yourself walking in the CBP office lot. Total walk time is just 2 minutes.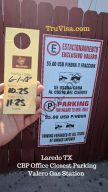 Laredo tx Valero gas station closest parking to CBP office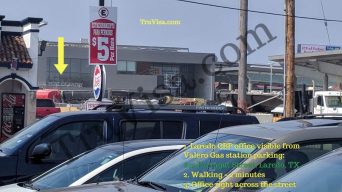 i94 correction CBP office laredo tx is visible from Valero Gas Station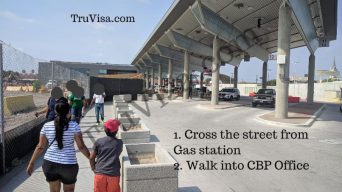 Walk to CBP office at Laredo TX for i94 extension
2. Laredo Outlets Mall - Free parking for 3 hours - Closer to Bridge 1
If you are asked to cross the border or you want to directly go to bridge 1 (also called Gateway to America bridge), you can park at FREE parking in Outlets mall.
Exact address for Laredo Bridge 1 - Staircase from Mall connects to Bridge 1
The Outlet Shoppes at Laredo, 1600 Water St, Laredo, TX 78040

Laredo TX outlet mall border free parking
Walking to Laredo Bridge 1 from CBP office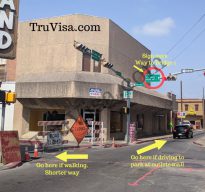 Walk to bridge 1 from CBP office
Bridge 1 is about 1 mile walk from Gas station (or CBP office) walking on Hindalgo St.
If you are first trying your luck at CBP office for i94 extension, you can choose to park either at mall or Valero gas station.
Walking from CBP office to Bridge 1 is not recommend with kid. Its a long walk. Better drive and park at free mall parking. The market that you walk through on Hindalgo street looks deserted.
NOBODY on the street knows ENGLISH.
So, Just follow this image sign to help your self to reach Bridge 1.
No signs except the one on a red signal (shown in image) is visible for reaching Bridge 1.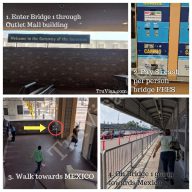 Crossing Bridge 1 by walking at Laredo TX
Cross Laredo Bridge 1 mid-way to enter US i94 line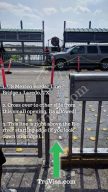 Cross bridge 1 mid-way at Laredo to join US i94 line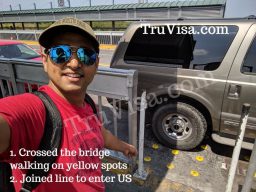 Laredo bridge1 crossing half way on bridge
This is me after crossing the bridge midway (some people call it as 'Jumping the line mid-way). This is allowed.
There is no separate button / light to allow for crossing the street safely like see on US streets. Just look for cars and then cross when you feel it is safe.
It is allowed to cross like this as I asked the US police officers posted on the other side of street.
After this point, you should enter the 'General Queue'.
Do not enter the 'SENTRI' line since you do not have a SENTRI card.
Queue is smaller on weekdays (Mon - Friday) and you can get through the process within 15 minutes.
It takes a lot longer on weekends. I have heard timing from 2-3 hours as the line is longer.
Once you reach the immigration officer, you will be questioned same as you would have seen at PoE. You have to pay $6 in cash per person here if you have not paid already online to get renewed i94.
Laredo, TX Port of Entry Address - i94 correction / Extension
The exact address for CBP office is
300 San Dario Avenue, Laredo, TX
If you are taking Uber or Lyft, you can set the Gas station address as your destination as this CBP office address might not come up in address search.
i94 extension fees - $6 - Cash or Online
1. CASH payment
Look for PERMITS sign on the building entrance or door.
Once you are in, you can make the payment and wait for your name to be called.
The waiting lines may be long at CASH payment counter.
2. ONLINE payment
So, it is advisable that you make the payment online at CBP website with 'Land' border' entrance option.
This payment is valid for 7 days meaning that you can pay online and visit the border for i94 days anytime during those 7 days.
There are no refunds if you miss the 7 day deadline.
Payment receipt printout is required.
i94 extension interview questions
The interview would be same as you would have faced (by immigration officer) while entering US at any port of entry (PoE) by Air or sea. They consider it same as your re-entry to US.
i94 extension approval
Once the officer is satisfied, he will take your finger prints and a picture. This is exactly same as what happens at port of entry.
You are given a paper I-94 i.e. your new updated i94 is printed on paper and given to you.
THIS IS REQUIRED as you would be asked to show it while you are travelling back from Laredo, TX back into US.
There is a vehicle inspection site on I35 North (interstate i-35N) around 25 miles from Laredo, TX.
Here, all vehicles are stopped and your immigration papers are checked. You would need you new i94 here.
Your passport is stamped with new dates as applicable per your approved I797 validity.
i94 extension at Laredo, TX Processing time
The whole process can take anywhere between 15 min to 1 hour. So be prepared.
No appointment is required. Neither do they have any option of appointments. It's a walk in facility.
Once i94 is issued, it is updated immediately at CBP website too.
New i94 record is attached to OLD passport number?
This is fine. When CBP extends the i94 based on your renewed passport, they usually attach it to the same OLD and expired passport number.
So, if you search online on their website, you will be able to pull your new and updated i94 based on your OLD PASSPORT number.
Also, both "Most Recent Entry" date and "Admit Until" on I-94 are updated.
There is no need to worry here.
Mexico immigration is NEVER touched
You do not need to go through Mexico Immigration at all.
You just cross the US border (step into Mexico land) and then immediately turn back to enter USA.
In this whole process, you never even see any Mexico immigration counter.
If US does not let you re-enter from Mexico border?
In the unfortunate case of rejecting your entry in USA (it is possible), you will need to go into Mexico as that would be the only option left for you.
Your US visa/ i797 are valid to enter Mexico. So, no need to worry about applying for Mexico visa separately.