ACS Australia Skill Assessment
If you are looking at applying for
Australia's PR with skills based points system
visa (known as
189 visa
), you would need to apply for
ACS's assessment
, if your education and work experience is related to science and technology.
Related: How to score 79+ PTE Academic in a week
ACS Australia Skill Assessment Fees
At the time or writing, the fees for Skills based test is AUD $ 500. This converts to approximately USD $ 384 with conversion rate of 1 AUD = 0.77 USD.
Documents required for ACS Australia Assessment
Birth Certificate or Passport – Applicant details page only, not full passport
Degree or Award Certificate - Over and above Senior secondary i.e. above 12th standard • Title of Degree or Award • Name of University or Awarding Institution • Date the Degree or Award was completed – the qualification will be assessed as NOT suitable if there is no documented evidence that the degree has been completed and awarded.
Mark Sheets or Mark sheet Transcript • Should have Unit or Subject Names and Grades or Marks Achieved
Work experience letters - How ACS calculates your work experience years?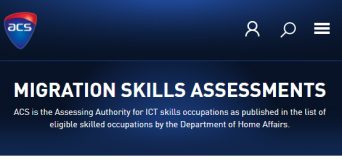 How to file ACS Australia Assessment
Work Experience letter Format
Use this sample skill letter. It has all the information that ACS needs to validate your work experience with respect to the
Australia ANZSCO job code
that you choose.
The start date and end date for the job has to be clearly mentioned.
If you just mention the MONTH like JUNE 2017 to MAR 2018, ACS will assume it to be the LAST day of that month for calculating your total work experience.
Letter head is mandatory.
ACS Australia Online Application Filling
1. Notarize All Documents
Get all documents photocopied and then
NOTARIZED
.
Sample Notary stamp and content to be placed on EACH page that needs notarization.


Sample notary stamp for ACS Australia documents
Notarization requirements
Should be marked as 'CERTIFIED TRUE COPY OF ORIGINAL'. - Either you can write this by hand or use a rubber stamp (as shown in above image).
Should have Notary signature.
Should have Notary official stamp.
Should have Notary date of signing. Date format: dd/mm/yyyy If using any other date format, then write date with month in English letters like 4 Apr, 2018.
2. Scan All Notarized Documents in PDF format
Multiple PDF files are allowed. A separate PDF file should be created for each qualification type and for each Employment reference. Example, You will have 1 PDF for your passport. Then, second one for your Master's/Bachelor's degree + Mark sheets (all years) Then, third one for your Employment 1 reference letter. Then, fourth one for your Employment 2 reference letter and so on.
Max 8 documents can be evaluated for 1 application fees. This essentially means 8 PDF files excluding the passport PDF.
Each PDF can be max of 3 MB in size. Use CamScanner or ADOBE Scan mobile apps to easily scan your documents. Both are available FREE to use.
File name should clearly state the content of file. Example, PDF 1 can be named 'Passport.pdf'. PDF 2 with Masters degree and mark sheet can be named 'Education 1 - Master of Computer Application.pdf' PDF 3 with Employment 1 can be named as 'Employment 1 - ABC technologies ltd'.
ACS Assessment Not Able to Delete Uploaded files
This is a common problem with ACS's system. They do NOT allow to delete the files (if you wrongly uploaded them) even though they have a '
Delete
' button available.
This is perfectly fine and you can ignore the wrong files. Just upload the correct files against each section and you should be fine, as per official ACS response.
Some people suggest to create a new ACS online account and then re-start the process.
If you try to create another account with another email, they do NOT allow you to do so.
They do match your passport number to check any pre-existing applications.
ACS Assessment Awaiting Documents Email
If ACS needs any more documents from you, they will send you an email and move the application status to 'Awaiting Documents'.
If you have not received an email from them and still the status shows 'Awaiting documents', check this link for resolution:
ACS assessment status waiting for documents - no email received.
ACS Revalidation
You can apply for re validation but I would not recommend it until you are sure of some mistake. The fees is AUD $300 for re-validation and they just re-do the same process that they did earlier. You can ask for the reason of low score though and they will explain on what criteria they chose.
ACS Current Employment End Date
End date
has to be mentioned for the current and active employment too. Just choose the end date as the date when you are submitting the application. Once you are past the education and employment entry page, you will receive an email to create your PASSWORD.
Follow that link. It will ask you to enter your email and send send you a new link to reset your password.
Once you create a new password, you are logged in to ACS for completing your application.
ACS Application "In Progress" or "with Assessor"
Once you submit your application, it is normal for it to stay at "In Progress" step for about 10-15 days.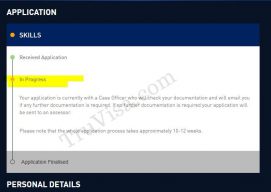 ACS Australia application in progress
Once the preliminary verification of your documents are done, the next status would show up as "with Assessor".
Assessor is the person who will judge your educational and work experience and give the results.
Officially ACS says that it takes about 10-12 weeks to get the ACS assessment report.
Sample ACS Assessment Report 261312 (Developer Programmer) ANZSCO Code
This sample report was received on May 21, 2018. It was filed on Apr 4, 2018. So, it took about 6 weeks to get the report. The time frame varies based on your submitted documents and their truthfulness.
ACS may send the document to the employer for verification if they feel something has been tampered with. This will eat up lot of extra time based on how soon the employer responds.
This article was original published at