ACS is Australia Computer Society and is required for certain job occupation in Australia's SkillSelect permanent residency application.
ACS assessment will analyze your educational to match your degrees with Australia's educational system and provide a certificate to claim ICT major or Minor status.
The same ACS application can be used to evaluate your work experience as well.
This status helps gets points on Australia PR application.
ACS Assessment Report Work Experience AFTER Start Date
Check this sample ACS assessment report for an example:
The most important date is 'AFTER month' that's mentioned in the second line of the ACS report.
Since, they have only specified the month and not specific date, the biggest confusion is over what date to use in Australia SkillSelect EOI (Expression of Interest).
The official ACS guidance is that you can use the start DAY in EOI as the day of the date you filed your ACS application.
Example, in the sample ACS report, AFTER April 2010 is the start month for relevant work experience and this application was filed on 3 April 2018.
You can use the start DATE while filing EOI as 3rd April 2010.
Lot of forums and people might ask you to use the next month's first day as start date due to the word 'AFTER April 2010'. But, this is NOT true.
Not sure why ACS does not clearly write the full date in their letter to avoid any confusions. That's how it is and we can't change it.
ACS Assessment Relevant Work Experience Calculation
ACS deducts 2 years from your last 10 years work experience OR
ACS deducts 4 years from your TOTAL work experience.
In sample report above, person has 11 years 6 months relevant work experience starting from June 2006.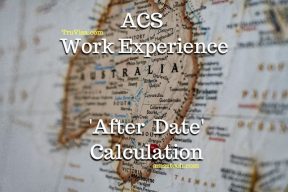 ACS Assessment Work Experience calculation
Assuming degree is considered as ICT Major and relevant to your nominated occupation, these rules will apply:
ACS will deduct 2 years from last 10 years or 4 years from total experience, whichever gives you EARLIER 'AFTER START DATE'
If 2 years from last 10 years are deducted (Go back 10 years from 3 April 2018, you get 3 April 2008), then add 2 years as a deduction to reach at 3 April 2010 - Called as Skill Applicability date.
If 4 years from total experience are deducted, this date would come out as JUNE 2010. How? Count the relevant years from ACS report starting June 2006, you reach June 2010.
The second option results in an earlier 'AFTER DATE' for your work experience, and hence ACS will award you April 2010 date.
---
This article originally published on am22tech.com. Reproduced here for wider distribution with copyright permissions.