Update Sep 21, 2018 - DHS to court - rule coming out in 3 months
DHS has filed its response to SaveJobsUSA motion on Sep 21, 2018 in federal court.
DHS states that its senior leadership has reviewed the proposed H4 EAD withdrawal rule and sent it to USCIS this month for revisions.
USCIS will return the proposed rule to DHS for final clearance and submission to OMB after review.
"DHS expects the rule to be submitted for OMB review within 3 months."
This effectively means that you may see it by end of Dec 2018 or early Jan 2019.
Be ready for the Christmas gift !
We try to estimate the final H4 EAD revocation date based on how fast DHS moves. This is just a guess.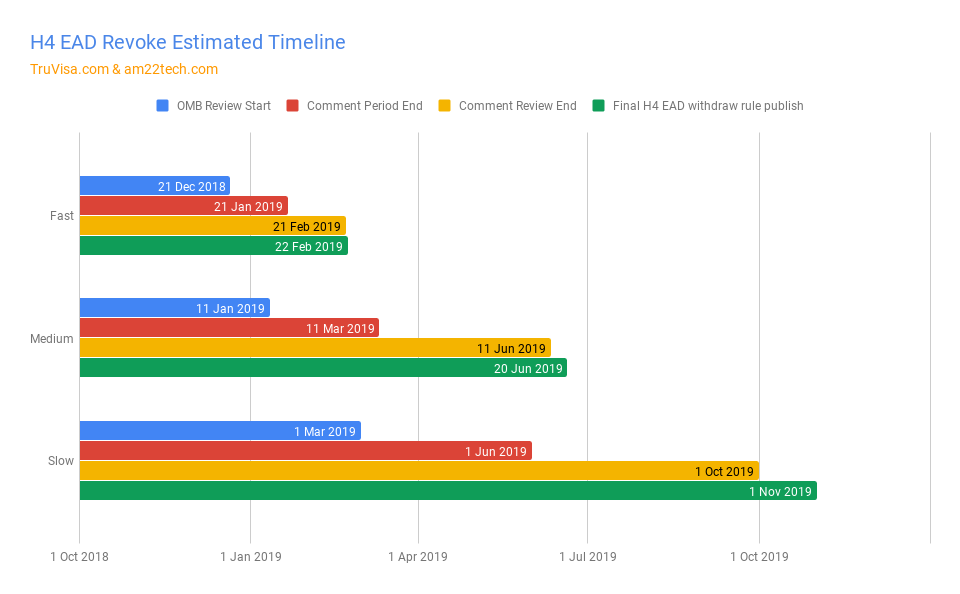 H4 EAD revoke estimated timeline - Guessing the date based on DHS decisions
| Starting 21 Sep 2018 | Fast (Days) | Medium (Days) | Slow (Days) |
| --- | --- | --- | --- |
| OMB Review Start | 90 | 110 | 160 |
| Comment Period End | 30 | 60 | 90 |
| Comment Review End | 30 | 90 | 120 |
| Final H4 EAD withdraw rule publish | 1 | 10 | 30 |