How to get Australia PR easily with skilled employment is a popular question and we list the step by step procedure here to help you jump start your migration.
Step 1 - Check your skills in Australia's Skilled Migration List
Australia has 3 primary skilled migration lists. At this time, only people with job profile / skills in these lists are eligible to apply for permanent residency.
Medium and Long-term Strategic Skills List (MLTSSL)
Short-term Skilled Occupation List (STSOL)
Regional Occupation List (ROL)
We have the comprehensive list of all currently active Australia PR skills list here. This list is updated daily.
Is your work experience or skills found in the above list (use the link given above to check your skills)? Yes, then you are eligible. Move on to Step 2 now.
Step 2 - Calculate your Australia Skills Points
Australia has a points based skill migration system meaning that your eligibility is tested on various criteria and then your total points decide if you will get the Australia 5 year residency permit or not.
The points calculation system is called 'Australia SkillSelect' system.
We have a Australia PR SkillSelect points calculator to help you find your points. These points can be used to file your application under visa categories 189 (points tested), 190 (points tested + State sponsorship) and 489 (regional visa).
Go ahead and get a total for you. The calculator will 'suggest' the ways in which you can increase your total points to improve your chances of getting Australian residency.
How many points are required for Australian PR?
At this time, you need to score at-least
65 points
to be eligible for Australian PR.
Are you points more than the minimum points required to file Australia PR? If yes, then go to step 3.
Step 3 - Gather Australia SkillSelect Point Proofs - English and Work experience
3.A. English Test Score
If you have not appeared for the
English
test yet, please go ahead and give the test and try to score the marks that you claimed in the above SkillSelect points calculator. You need the score results before you can claim the points for your English.
We recommend opting for PTE Academic (pearson) exam and score 79+ in your first PTE attempt using our tried and tested notes.
Some people might have already given IELTS and if the score is not getting you maximum Australia points, we recommend trying PTE.
We have written the real life experience about difference between IELTS and PTE here.
You can move to Step 4 (filing EOI) without your English Score. But, you will certainly need it if your application is selected. So, its better you have it ready or plan to get the result while waiting for invitation.
3.B. Education and work experience evaluation
If you have not yet got your
education and work experience
(based on skills in Step 1) evaluated, this is the time to do it.
The Australia EOI filing (next step) requires you to provide the Skills assessment proof and a reference number (provided by the assessment agency).
This is a mandatory step before moving to Step 4 below.
The assessment agency is listed next to the skill you have chosen in the list in Step 1 above.
If your skill's assessment agency is ACS, then you may want to read how to apply for ACS assessment and how ACS calculates your total work experience by deducting 2 or 4 years.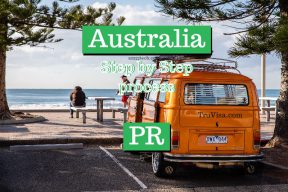 Get Australia PR with easy step by step process
Photo by Simon Rae on Unsplash
Step 4 - File Australia PR Expression of Interest (EOI)
Australia PR Expression of Interest (EOI) is nothing but a formal application from you to Australia immigration department.
This is a mandatory step. We have a sample step by step Australia EOI to help you steer through the Australia's SkillSelect website here.
You fill all the details, verify the points on the last step and then click 'Submit'. Once you submit, you are added to the 'pool' of other applicants that have submitted their EOIs.
What is Australia PR Invitation pro-rata system?
Every month, Australia immigration runs a draw (kind of lottery) which selects the limited number of top EOI applications (with highest points) and sends them PR invitations. There is a possibility that some of the skills (ANZSCO job codes within same category) have more EOIs than other job categories.
In this case, they place an artificial limit on the number of invites on the oversubscribed jobs to give a fair chance to other less in-demand job categories.
This is called 'pro-rata' system meaning that highly popular skills will be restricted and the invitations are sent pro-rata (limited number of invites in that skill category).
For example, at the time of writing this article, job category 2613 - Software and Applications Programmers has oversubscribed EOIs and hence restricted (pro-rated) invitations are sent for them.
After submitting the EOI, you just wait for the invitation. While waiting, you can still try to increase your total points if there is still some scope like improving English test score or added work experience.
Once you receive the PR invitation, you need to see next step.
Step 5 - Apply for PR if selected and received PR invitation
You have received the PR invitation and now you 60 day timer starts once you '
Accept
' the invitation.
We recommend to file your papers as early as possible to reduce the processing time for your Australia PR. Some documents take time to receive like Police Clearance certificate from FBI (if living in USA) along with Medical test results.
We have a comprehensive article on documents required for submitting PR invitation along with step by step process.
Once you submit your Australia PR invitation, you wait until you receive your PR 'GRANT'. Grant means that Australia officially gives your permanent residency for 5 years.
You will be given a certain amount of time to make a first mandatory visit to Australia and validate your PR before that date.
Once you validate, you can go out of Australia and return anytime within those 5 years.
Australia PR Agent / consultant - Do I need them?
It depends on your personal choice. My personal recommendation is to save money and file it yourself.
The Australia PR process is simple and straightforward and you can do it yourself easily with free information available on our site. We also answer your Australia PR questions within 1-72 hours on TruVisa.com.
Get Australia PR from India?
Yes, you can complete the above mentioned Australia PR application process from anywhere outside Australia like India, Singapore or even USA.
Lot of Indian skilled workers on USA H1B visa, waiting in long USA green card queues are in-fact filing Australia PR while its still open and available.
If your chances of going to USA are low, we highly recommend filing for Australia PR from India as they give direct Green card equivalent just on the basis of your education and work experience. No job offer is needed! Isn't that amazing?
---
This article originally published on am22tech.com. Reproduced here for wider distribution with copyright permissions.