Australia Skillselect PR Invitation 189, 190 Document Checklist
If you have submitted SkillSelect EOI (Expression of Interest) with
good skillselect points
and have got the invitation to apply for visa, you have 60 days to gather all your documents and submit.
Documents for Australia 189, 190 visa Invitation - Primary Applicant
Pre-apply or wait for invitation
You can apply for these documents even before getting invitation as they take time.
Documents required after PR Invitation - Color or Certified copy
Passport - first and last page

Birth Certificate
If you do not have birth certificate, then you should get it. In case of India, you can use 10th standard certificate/mark-sheet.

Skill Letter from past 10 years employment
Use the one you submitted as educational qualification proof with ACS or relevant accessing authority.

Skill assessment letter
Competent Australian authority or ACS as the case may be.

Income tax Proofs
If you are in USA, you can submit W2 or your tax returns.
If you are in India, you can submit form 16 or ITRs.
For Singapore or Pakistan or Bangladesh etc., submit the income tax documents that prove you paid government income taxes.

Marriage Certificate
Only if you are married off course

Qualifying Degree - Mark-sheets, Transcript & Degree certificate
Use the one you submitted as educational qualification proof with ACS or relevant accessing authority.
Sample Form 80 for Australia 189 Visa
Form 1221
The information in form 1221 is 99% same as you would have filled in Form 80.
This form may or may not be requested in your 189 skillselect invitation. Hence, fill it only if requested by Case Officer (CO).
Some people upload it without even being asked by CO, just to make sure no time is lost between CO requesting it and then you upload and CO takes time to verify.
It is your choice.
As per the official Australian guidance here, Form 80 is not mandatory either if you are applying from outside Australia.
But, as a matter of saving time, you should be ready with it if CO asks for it.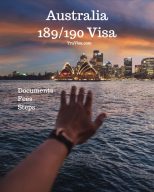 Australia 189-190 visa invitation documents
Documents required for Dependent applicants
Additional Applicant over 18
Passport - first and last page
Birth Certificate
Education documents - Graduation/ post graduate certificate and mark sheet.
Proof of functional English - Mark Sheets and certificate showing English as a subject studied.
PCC - from all countries where this person have stayed more than 12 months in past 10 years.
Form 80
Form 1221 (optional)
Photo - passport size
Additional Applicant under 18
Passport - first and last page

Birth Certificate

Photo - passport size
Australia PR 189 visa Fees
Australia PR 189 visa skillselect status after invitation
Once your EOI is selected in the lottery (draw), the status in skillselect will change to
INVITED
. A new button
APPLY VISA
will appear on the skillSelect page.
You need to click 'Apply Visa' to go to Australia ImmiAccount website.
You are required to create an account here and fill your details. You will be paying the visa fees on this website itself.
Scanned documents PDF upload size
Each document size PDF file after scanning should be less than 5 MB. Each applicant can upload 60 separate documents i.e. 60 for you, 60 the for spouse, 60 for a child.
---
This article originally published on am22tech.com. Reproduced here for wider distribution with copyright permissions.